Product Description
FM-P was created for high speed marking perfect for small volume production. The 100,000 hour laser source gives you confidence in the life of the machine while only using .5kw to run the whole machine. Enclosed in a protective cover the Laser marker FM-P keeps you away from any dust and laser radiation. This feature will also keep your shop clean and the dust level minimal, protecting your eyes and lungs. The FM-P keeps a small footprint and is lightweight making it virtually portable.
Full protect type laser marker is MEIMAN patent design have below description Automatic focus control,Machine can detect the thickness of the workpiece automatically. We are the first company in China applied this technology in laser marking machine; Onekey to Intelligent marking;Automatic door ,the door will be automatic lifting down before work start and lifting up when finishing marking, laser source will be automatic cut off once the door be opened while machine working;European standard of protection:Protection European standard OD+4;
Also. the deaBeautiful appearance and reliable quality;Flexible variable text:Changes the text real time while in laser processing.Excel datasheet is supported;Image processing (Grayscale, White / Black Transformations);More convenient IO operations make it easier to harmonize the auxiliary equipments;An opening language supporting system makes it easier to run the software in various languages platform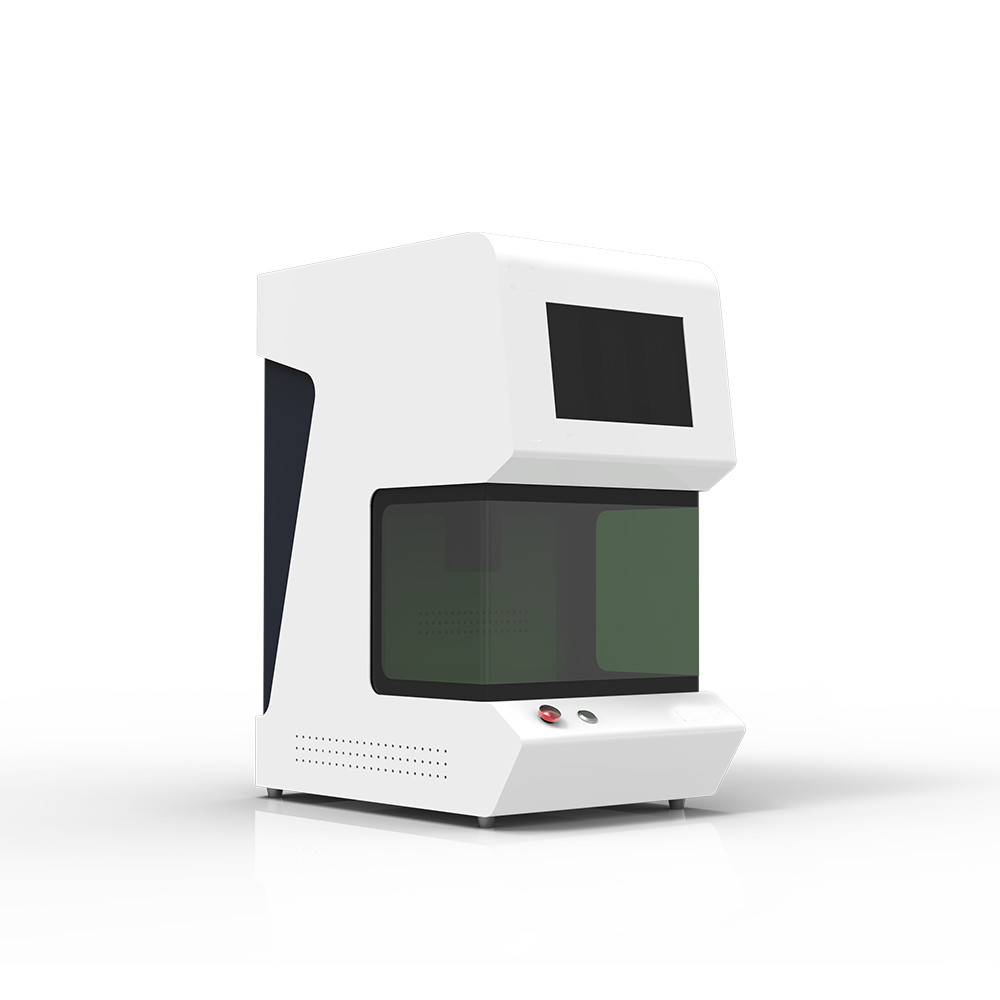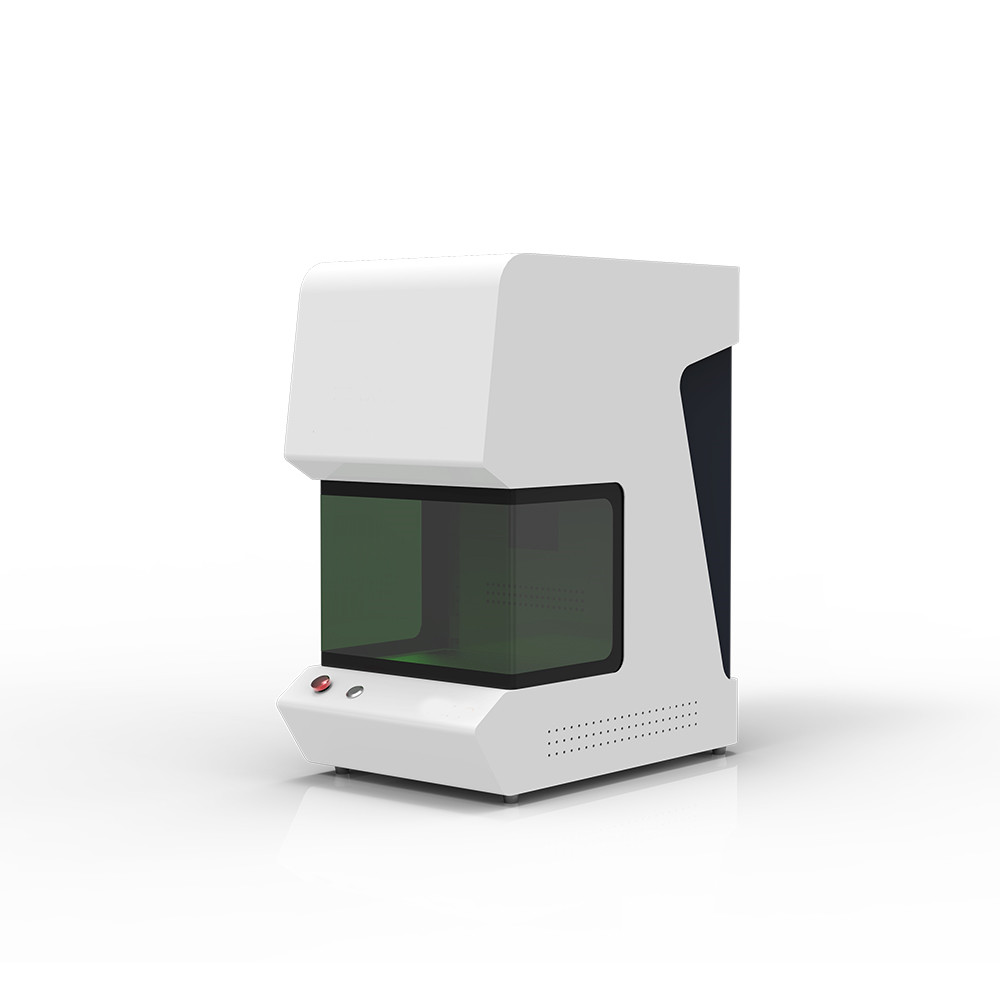 Protective laser marking machine with computer. Protective fiber laser marking machine
OD:+4 European standard laser protect glass. OD:+4 European standard laser protect glass.
| | |
| --- | --- |
| Model | FM-P |
| Working Area | 100*100 mm/200*200 mm |
| Laser Power | 20W/30W/50W |
| Marking Line Speed | ≤7000 mm/s |
| Frequency | 20KHz-80KHz |
| Laser Wavelength | 1064nm |
| Minimum Line Width | 0.02mm |
| Minimum Character | 0.15mm*0.15mm |
| Working Voltage | 220V/50HZ , 110V/60HZ |
| Graphic Format Supprted | BMP, JPG, GIF, TGA, PNG, TIF, AI, DXF, DST, PLT, etc |
| Repeatability Accuracy | ±0.01mm |
| Unit Power | <0.5kw |
| Laser Module Life | >100000 hours |
| Warranty | 24 Months |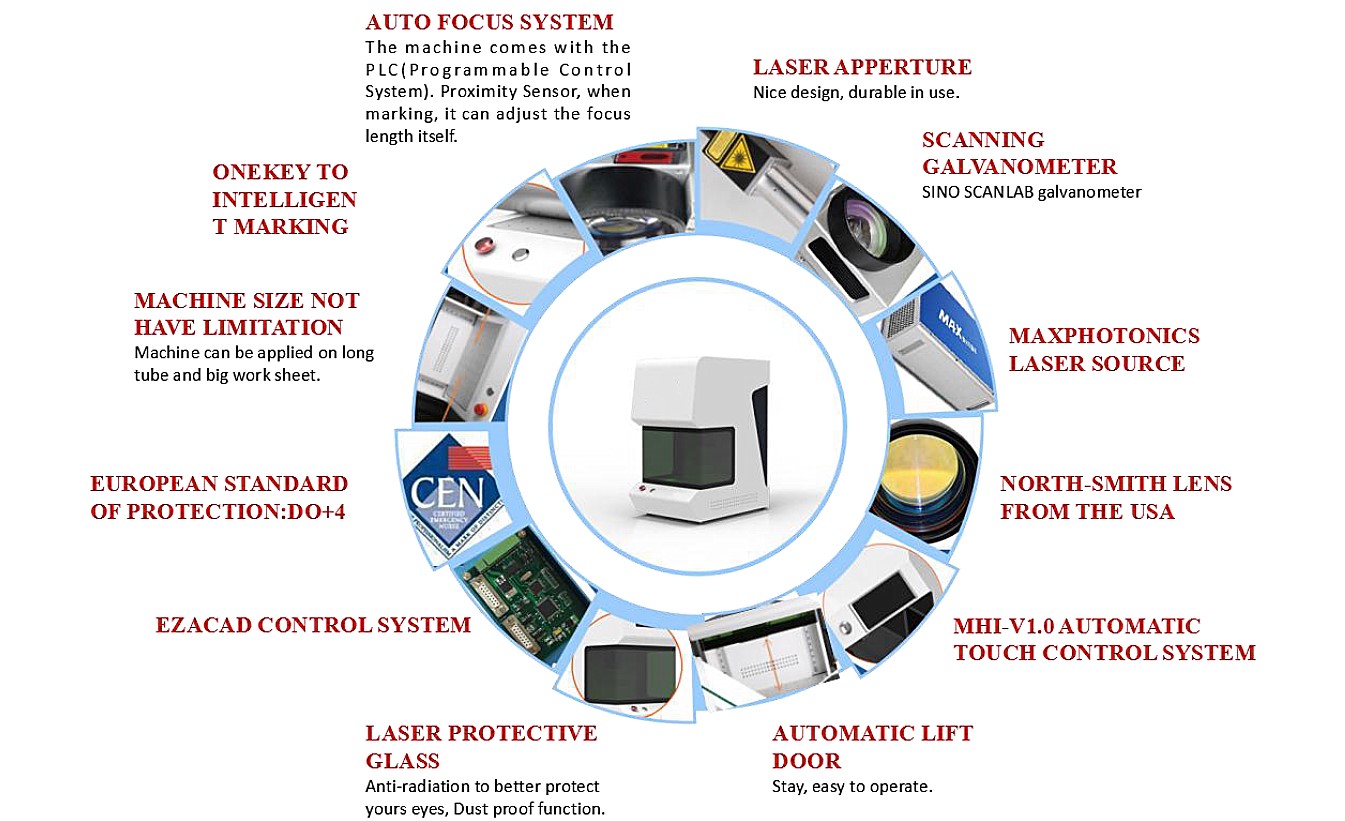 Details video please contact us
Application
· Suitable for electronic components, integrated circuits, electrical appliances, communication products, sanitary ware, tools, accessories, knives, glasses, clocks, jewelry, auto parts, luggage buckles, kitchen utensils, stainless steel products and other industry products, etc.For artistic, clear and permanent identification mark.
· Suitable for engineering plastics, electroplating materials, coating materials, rubber, epoxy resin, ceramic, ABS, PVC, PES, copper, titanium, steel and other materials surface for artistic, clear and permanent identification mark.